Mike Modano Signing Starting to Pay Off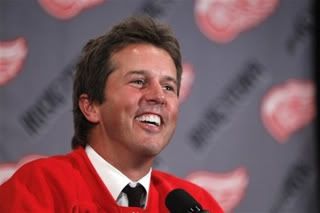 Photo Credit: AP Photo
It was sad to think of the possibility of Mike Modano retiring this past summer. But at the same time, it was also weird to think of him playing for any other organization other than the Stars organization. When you say the name Mike Modano, most people will picture him in Stars jersey. There was some talk of him going to Minnesota since the hockey state is where his career started with the North Stars, but Minnesota does not have a team capable of winning the Stanley Cup, so it would not have made sense. Mike Modano wanted to hoist the Stanley Cup again, and returning to his home state to play for a Red Wings team perfectly capable of making his dream come true was a great decision. The Red Wings wanted him so they were the perfect fit.
Modano started off his career as a Red Wing the best way possible. He scored on his first shift after taking his first shot. But unfortunately for him, that was all the offense he produced for quite some time. He wasn't just struggling to put the puck in the net, he wasn't putting any points up on the board at all.
But in the past week or so things have changed. Modano has found his niche. He has great chemistry with Daniel Cleary. Like I said in my last post, the third line for the Wings is on fire. The team signed Modano with the expectation of having him as the third line center. Modano is 40 years old. He's not going to play at the level he did when he was one of the elite players and superstars in the NHL. He's going to play less minutes, but you can still expect him to produce. It's exciting to think of what he can do for the team when it really counts in April and later.
It may still be a bit of a weird sight for some to see Modano wearing red and white. But for Red Wings fans, it's nothing to complain about. It was a bit concerning to see him struggling early on, but those worries are gone. Modano is playing the role he was brought to Detroit to play and he's going to show his worth is more than that of a third line center. He has leadership abilities and experience. That seems to be the theme with this Red Wings team. "Clutch" comes to mind when I think of Mike Modano. The thought of him as a Red Wing is no longer weird for me. It's a proud and exciting thought.