Red Wings Get the Home and Home Sweep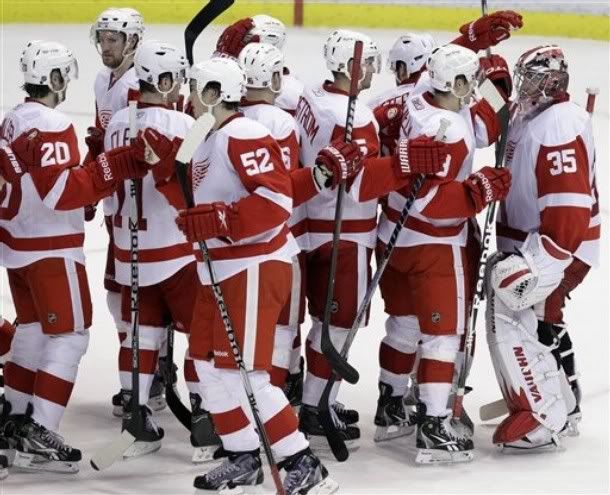 Photo Credit: AP Photo
Tonight's game was another important game in the race for tops in the Central Division and Western Conference. The game required a comeback from the Wings, but that was not a challenge for the very experienced veteran squad.
The game started out as a tale of two great goaltenders as Jimmy Howard and Steve Mason both looked like they were on their game yet again. It seemed as if we were going to get a game very similar to Friday night's Wings Jackets meeting. But the Blue Jackets would get on the board first this time. In the final minute of the first period, Derick Brassard continued his great start to the season with his sixth goal to make it 1-0 Blue Jackets. That is the way the period would end.
The Wings would come back in the second period with goals separated by just 14 seconds. First it was Niklas Kronwall to tie the game and then it was Darren Helm to make it 2-1. Just like that the Red Wings took the lead. I think that is very telling. The Blue Jackets are having a fantastic season and are one of the biggest surprises in the league. But they are not at the elite level that the Wings are at. Tonight showed that.
In the third period, the Wings added to their lead. Just 52 seconds into the period Valtteri Filppula scored to make it a 3-1 game. It looked like it was going to be difficult for the Blue Jackets to come back once the Wings added to their lead, but a double minor on Filppula followed by a minor penalty on Kronwall for holding just after the first two minutes of the double minor expired looked like enough to give the Jackets a HUGE chance to come back. But they failed to get anything going at all. And the Wings killed it all off. The struggles on the PP that Columbus showed on Friday were showing again. Either that or the Red Wings are just so great at killing penalties.
Columbus would eventually score to cut the lead in half on a power play late in the period, but it was too little too late. They pulled Mason to get the extra attacker and Cleary put the game away with his 10th of the season.
With tonight's victory, the Wings remain at the top of the Central Division and Western Conference with 32 points and 21 games played. The Canucks sit behind them in the conference with 27 points and 22 games played, and the Blue Jackets sit behind them in the division with 28 points and 22 games played. This all shows just how important this weekend's home and home series was. Getting 4 points and holding the Jackets to 0 not only helps now, but it will help later in the season for positioning as well.