Red Wings Head Into the All Star Break with a Win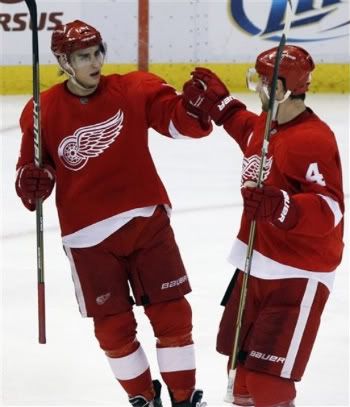 Photo Credit: AP Photo
With a week off looming in front of them, the Red Wings, like every other team in their final game before the All Star break, were looking for a win. A week off after a win is obviously much easier than having a bad taste of a loss to think about.
Detroit faced a Devils team that has been looking like an entirely different team lately. Since January 9, the Devils have beaten the Lightning twice, the Flyers, the Penguins, the Islanders, and the Panthers. Their only loss since that date came in overtime to the Panthers.
Just looking at the standings one would not have expected last night's game to be much of a test. The Red Wings had 64 points coming into the game, and the Devils had just 35. The standings certainly do not paint a clear picture of where the Devils are right now.
The Red Wings, on the other hand, were just trying to survive their case of the injury bug and keep pace with the Vancouver Canucks. With a depleted roster it was apparent that depth would yet again be the number one key to a victory last night.
Depth showed right away for the Red Wings. Less than two minutes into the game Darren Helm opened up the scoring. It was Helm's 6th goal of the season. Just 5 minutes later the Devils would tie it as Brian Rolston scored his 6th goal of the season.
The game would stay tied until the third period. The Wings were getting their chances, but they just failed to capitalize. You would hate to say it, but it really was a boring hockey game for quite some time.
In the third period the Wings came alive. Valtteri Filppula scored his 12th goal of the season to finally get the lead back and break the long scoring drought in the game.
The Wings let the Devils stay alive in third period. With a 5 on 3 power play in the latter half of the period the Wings could have put the Devils away, but they failed to capitalize on that chance.
In the final minute of the game the Red Wings made it impossible for the Devils to get Brodeur off for the extra attacker. The Wings stole the puck in the neutral zone as the Devils tried to change lines. Zetterberg found Franzen, and the rest was history. Franzen's 21st sealed the victory and gave the wings a huge win before the All Star Break.
The Wings return to action February 2nd in Ottawa. But for now all eyes are on All Star Weekend. It should be interesting to see who Lidstrom picks to be on his team Friday night.
Alicia Sprenkle:
www.twitter.com/ActiveStick_44