Change Wanted and Needed
I predicted that the Detroit Red Wings would go down in six games to the Nashville Predators. I didn't expect them to beat the Preds, but I did expect a great effort. Boy, was I wrong.
At a time where playoff hockey is the focus in Detroit, the Red Wings totally disappointed. Nashville steam rolled Detroit in five games and the Wings are already in golf mode. Being down 3-1 in the series, the Wings turned in their worst performance of the playoffs. Reading through some fan replies, it is obvious that some people have no idea who to place the blame on, but I can help them out in this instance.
For those who want to blame Jimmy Howard; shut up. Seriously, if you blame your goaltender it's the biggest cop-out you can come up with. Play like garbage and it's the goalie's fault? Here's a statistic; Detroit scored nine goals in five games. That's a whopping 1.8 goals a game! Factor in that the defence was a bunch of pylons wearing Red Wings uniforms and you can make a case that Howard was the reason the Wings were somehow in some of these games.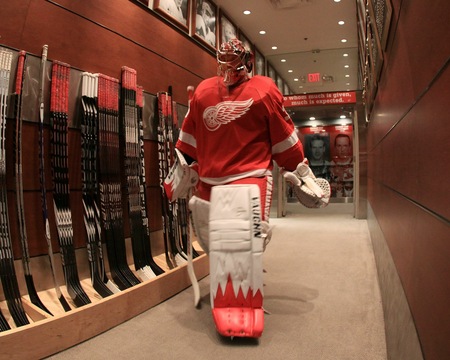 There's his non-existent 'defence' following him out of the room
If you want to blame the players, that's fine with me, because ultimately it's on their shoulders. Not one Red Wing stepped up. Zetterberg was the best of a mediocre bunch. He led the team in points with three. THREE POINTS IN FIVE GAMES. Don't say that Jiri Hudler was good because he scored two goals, because he wasn't. And did they miss Darren Helm or what? Justin Abdelkader was no where to be found in this series. Pavel Datsyuk had one goal. Johan Franzen's goal went in off his skate and he was a corpse the rest of the series. Nick Lidstrom was held pointless in a playoff series for the first time ever.
The best way is to be unreal in the playoffs and they give you a ton of cash to be inconsistent!
If you want to blame something like a controversy or some crap like that, cut it out. The excuses like Bettman doesn't want Detroit to win and the refs have it out for us are all baloney. The NHL wants Detroit there every year because they draw a crowd and TV ratings go through the roof. That's why they aren't in the Eastern Conference, remember? And hear this - referees call the game the way they see it. Detroit took countless penalties this year and they were deserved.
If you want to blame Mike Babcock and his coaching staff, it's a legit argument. On one hand, he didn't make any changes to his lines or tactics that could even remotely concern the Predators, but then again, if he doesn't have the palyers to do it then he has to do the best with what he has. When Dan Cleary is on the top line, you don't have depth. People always say Detroit has depth, to me that isn't true. They have a lot of players but depth means they can plug a lot of guys into top lines. Dan Cleary and Todd Bertuzzi are not top line players; they're third liners. Babcock has also publicly said they didn't have enough depth, and also said Brendan Smith is an NHL player but he was put in the minors. So who's to blame?
Ken Holland. That's right, our mastermind general manager is the reason for this first round loss. He might not be the mastermind general manager, anyway. Look at the team that was built in 1997, 1998 and 2002. No salary cap, the Illitch's have a billion dollars and Holland had the keys to their vault. Getting Luc Robitaille, Brett Hull and Dominik Hasek in an offseason is directly because of that. 97 and 98 were Steve Yzerman's teams, and Holland had nothing to do with the core of that team.
For those of you that think he is the one responsible for the 'great draft picks' you would be wrong again. It's the scouts that do that, and he also publicly stated that Zetterberg and Datsyuk were 'lucky picks.' And if you look at the draft since 2000, there have been no impact players selected in the first round other than Niklas Kronwall. In 1996 they took Jesse Wallin. In 1997,1998 (took Jiri Fischer) 1999, 2001, 2002, 2003, and 2004 they didn't have a first rounder, in 2005 they took Kindl at 19th overall, 2006 had no pick, 2007 saw them take Brendan Smith (who was liked by Jim Nill). The rest are too young to judge just yet. That makes it look like Kenny gives away his first rounders so he isn't scrutinized for busts.
He just wanted to hit the links in cooler weather
Holland had cap space. The deadline came and went and he ended up giving away what is now going to be a 15-20th pick for a sixth defenceman (Kyle Quincey) that they gave up on in the first place because they thought Derek Meech was a better player. Yikes. It also means that they gave up three first round picks to keep a forty year old Chris Chelios around (two in the 1999 trade, one to bring Quincey back). Great management. Factor in Franzen's stupidly long contract and it makes you wonder.
Speaking of trades, Holland isn't good at those either. I already mentioned the Chelios deal, but at the time is was a decent trade. How about giving up Shawn Matthias for Todd Bertuzzi and his ailing back the first time around? Bert played seven games and about twenty in the playoffs before jumping ship. Also that same season, he gave up Jason Williams (who was decent at the time) for Kyle Calder. Gone in the offseason. Tomas Fleischmann for Robert Lang was a one year win. Fleischmann is a stud in Florida now. Lang is retired. The only one that was good for a Cup win was Brad Stuart for a couple picks. Not a ringing endorsement of big moves seeing Stuart was brutal for the last two years.
What really hurt them was losing Brian Rafalski in the offseason and replacing him with Ian White. They aren't even in the same league. Raffy was a great puck mover and was injured last season, making for some subpar stats. Now, with Nick Lidstrom thinking about retiring again, the Wings are in for serious change. If Nick wants back in, it has to be for the right price. We can hope he takes a discount to about $3-$4 million, but he can't come back for $6 million plus. He's still a great player, but he has to realize he needs help. The Wings need the money.
They have approximately $21 million in cap space this offseason. If Holland doesn't step up, perhaps changes at the top need to be made.
The Checking Line - Red Wings Edition | Promote Your Page Too
Kyle Busch