First Round Preview: Red Wings vs Predators
The Detroit Red Wings made the playoffs for the 21st consecutive year and will face the Nashville Predators in the opening round of the 2012 playoffs. The Wings and Preds split the season series 3-3, which makes for a great matchup for fans to watch, but is it a good matchup for Detroit? Our TCL Red Wings writers give you their input to the series and how they think it will play out.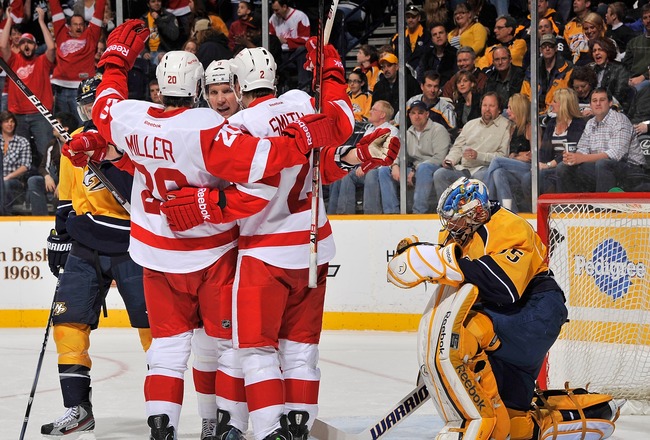 Kyle Busch:
I might be overly critical of the Red Wings, but based on the way they've been playing lately they won't last long. If Nashville wins both games at home to start the series, Detroit is in deep trouble. The inconsistencies offensively are mind boggling, but the bright spot is defence and goaltending. Can they hold up against a fast Nashville team? I'll give Detroit a clean slate because it's the playoffs, but I really don't feel they have what it takes this year. Maybe Johan Franzen will start trying and Detroit was just saving those lucky bounces until the playoffs. Either way, don't rest on what was done in the past. Nashville won't.
Kyle says: Nashville in 6
Rachel Bellono:
I do not see the Wings winning more than one or two games, tops. They have been inconsistent since before the injury plague hit. Worse, the Predators are starting at home. Detroit has ben rocky on the road all season. Pekka Rinne is always rock solid, but it seems like he has more drive to play better against the Wings. He pulls off some epic saves, almost like the ones Howard used to make before his finger injury. Unfortunately, the Wings are not the same team they were when going through their home winning streak and that will hurt them in the playoffs
Rachel says: Nashville in 6
Eric Huffman:
The statistics over the season show that this won't be an easy series by any means, but another stat to look at is the fact that these teams split in the regular season. The Red Wings road performance was definitely their big weakness this season, but I expect the Wings to steal one in early in Nashville and then follow up by going back and forth with the Preds until game 7. Does this series see some breakout performances from younger guys like Nyquist, Sheahan or Smith? I doubt it. Will the series see clutch performances from guys who normally deliver when they need to? Absolutely! Going back to the plague of injuries that really took the Wings' season in a less than favorable direction, it was mentioned how important those players were going to be in the postseason. It came at a cost of a mediocre display to end the regular season, but for the guys on this team who have that experience, I believe this will be their moment to shine. People love to talk about the weapons that Nashville has in Rinne, Suter, Weber and Hornqvist, but it's also important to look at the weapons Detroit has in Datsyuk, Franzen, Zetterberg and Lidstrom. This isn't a great team going against an average team. These are two great teams that thrive under competitive spirit, and who are sure to deliver a great playoff series.
Eric says: Detroit in 7
A.K Bennett:
Detroit hasn't won on the road in regulation against a team with a winning record since defeating Nashville on Dec. 26th. Nashville has won the three most recent meetings between them and Detroit and is much stronger with the late additions of Gaustad, Gill, Radulov and Kostitsyn. Detroit is struggling to put forth a consistently strong offensive effort, particularly on the power play and this will probably continue against a deep Nashville blue line and Pekka Rinne. The Red Wings should be able to win two home games or one at home and one on the road but given their play of late I don't see them flipping a switch and being able to dominate Nashville as they have in past playoff series. The Red Wings' significant edge in experience and ability to mount comebacks will make this a difficult series for the Predators but Nashville is hungrier, grittier and more balanced than the Red Wings.
A.K says: Nashville in 6
Robert D'Aurelio:
The Detroit Red Wings didn't do themselves many favours over the past three weeks of the regular reason. They failed to win very winnable games. They've now finished in 5th place in the Western Conference two of the past three post seasons. They've made it even harder on themselves starting their playoff run against the Nashville Predators on the road. Had they won their last game against Chicago, they would have had a chance to start this series at The Joe. This very small difference could have a very large impact on the outcome of this series. I'm going with go with the theme of the Red Wings not making things easy on themselves. In the end, veteran presence will prevail. It'll come at a price however, which will be a grueling seven game series ending in a Detroit victory.
Robert says: Detroit in 7
Paul Kendall
Even though they haven't played well lately, the Wings will turn up the heat and start playing like the team they were before all of the injuries.
Paul says: Detroit in 7
Who do you think will win the series and why?
The Checking Line - Red Wings Edition | Promote Your Page Too