Mursak Injury Opens Door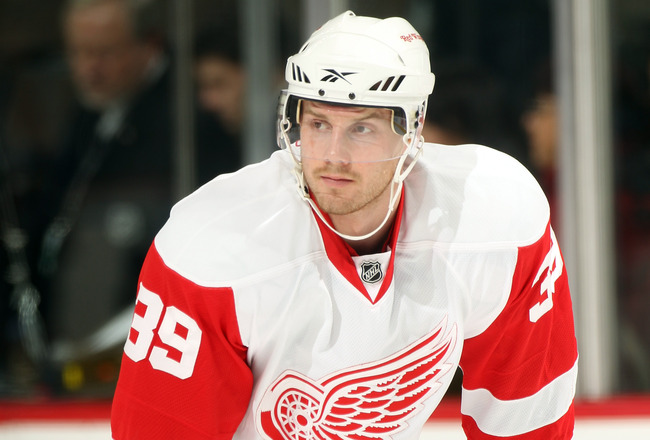 The Detroit Red Wings lost one of their rookie hopefuls yesterday in Jan Mursak, who broke his ankle in Detroit's 4-3 shootout win against the Chicago Blackhawks at Joe Louis Arena.
Mursak was using speed to his advantage when he fell awkwardly into the boards and left the game. He will be out at least two months.
This injury is a bummer for the Red Wings. Mursak was having a great preseason and was showing his speed and feistiness, a trait that Mike Babcock likes to see in his young players. Recent examples such as Darren Helm and Justin Abdelkader have made the Wings realize that the young guys can play, even if they only have speed and grit. Now, with Helm and Abdelkader turning into more complete players, they were obviously hoping Mursak could be the same this year. Not that he can't, it just won't be from the beginning of the season.
His injury opens the door for some other Wings players on the bubble. It all but assures Cory Emmerton of a spot on the roster since he would have to clear waivers to be sent to Grand Rapids. Detroit won't risk losing a former second round pick for nothing like they did last year with Mattias Ritola.
Chris Conner, the small, speedy forward wearing number 41 might be a choice for the Wings if Fabian Brunnstrom and Ryan Johnson aren't signed to contracts. Conner signed a two way deal that would give Detroit some room to manoeuvre; given Brunnstrom's play during the preseason, he will likely now make the team, and Conner could be sent to Grand Rapids. The odd man out has to be Ryan Johnson. I realize he is a penalty killer and a faceoff man, but Detroit doesn't need another Kris Draper. They might as well sign Drapes back instead of Johnson. Johnson is 35 years old and on the decline. He can only block shots and win faceoffs and therefore is more one dimensional than a player like Mursak and Emmerton.
The battle for a roster spot is getting intense, and with Mursak down, it might have just saved someone's NHL career. In time we'll find out who it was.
Kyle Busch