Tatar May Play Tonight, Hudler Hurt?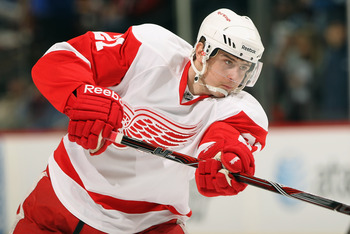 As stated in Eric Huffman's Red Wings vs Nashville Predators game preview, Chris Conner is out with a fractured hand and will be replaced by Cory Emmerton, who has been a healthy scratch a number of the past few games.
News also surfaced that Tomas Tatar has been called up from Grand Rapids (AHL), which begs the question, "To fill a seat in the press box or is someone else hurt?"
MLive.com reported that the unnamed player is actually Jiri Hudler, who was seen talking to Detroit trainers before leaving practice in Nashville this morning. Tatar will take the morning skate and if Hudler can't go, the Slovak will take his place in the line-up, presumably with Henrik Zetterberg and Valtteri Filppula.
Hudler has been very good lately, posting four goals in three games and is clearly clicking with Zetterberg and Filppula.
But, this could be a great opportunity for Tatar should Hudler not be able to play tonight. He has 7 goals, 14 assists and 21 points in 26 games for the Griffins this year, sitting second only to Gustav Nyquist (to be fair, Chris Conner was second before his call-up). He played nine games for Detroit last year, scoring his first NHL goal against the Islanders.
Recently, the play of Nyquist has led the Swedish forward to a hop-scotch of Tatar in the call-up department. But this really is a good thing for the Red Wings, having guys like Conner, Nyquist and Tatar ready to play in case of injury is never bad. The only knock on Tatar is his size, as with every young player, including Conner and Nyquist. Even Jan Mursak, who will begin a conditioning stint with Grand Rapids after Christmas, is diminutive in size, but they all have speed and skill, something the Wings need more of.
With all of these guys coming up, Cory Emmerton needs to really step up and earn a role or risk being waived to Grand Rapids. And the Fabian Brunnstrom experiment? All but finished I assume. Let the young guys play.
Even if Tatar just takes warm-ups in Nashville, it's a positive thing for him to be noticed for his improved play in Grand Rapids, and eventually he'll stick in the NHL.
Follow TCL Red Wings on Facebook and Twitter!
Kyle Busch